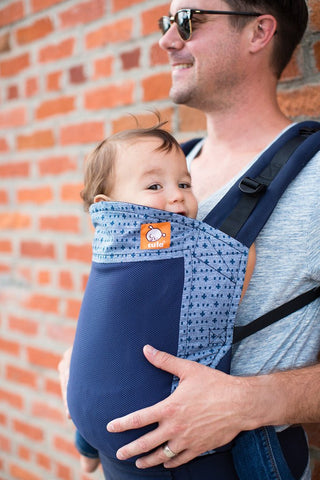 RENTAL: TULA TODDLER CARRIER - COAST JAGGER
Our rental program allows you to try before you buy! Rent, snuggle your little one close, then return! If it's Tula Love, you will get a 10% discount code at the return of your rental in order to purchase your very own. It's easy to get started! 
A Tula Carrier Rental is PhP1,000  for 14 days! Your freshly washed Tula rental ships next business day to you.. The PhP2,000 security deposit is fully refundable upon the carriers return in good condition. 

Please email info@ceoemporium.com to participate in CEO Emporium's Rental Program.
Tula Coast is designed to bring a cool ocean breeze to your day! This line of Tula Baby Carriers offers a reinterpretation of our original framed panel design using breathable mesh material which creates a ventilated carrier perfectly suited for active lifestyles and warm weather locales.
Tula Coast 'Jagger' is effortlessly hip with a denim blue fabric that has a geometric design framing a navy blue mesh central panel, a navy mesh hood, and complementing navy canvas. 'Jagger' is a neutral, urban look that works with your everyday style, whether casual or chic. 
CARRIER FEATURES:
High quality mesh center panel in navy that allows optimal airflow
Navy canvas base
Removable, regulated hood in navy breathable mesh
Highest quality Duraflex buckles
Large front pocket on the contouring hip belt
Dual-adjustment straps, provide the perfect fit
Extra padding around leg-opening for baby's comfort
Supportive shoulder padding for your optimal comfort
Hand-made from 100% Öko-Tex Standard 100 certified canvas
Instruction brochure
EACH TULA CARRIER:
Can be used in both front and back carries
Can be used from 25–60 pounds 
Can be used from about 18-24 months to 4+ years old (

beginning when the child is a minimum of 25 pounds AND 32 inches tall

)
Provides an ergonomic M-position seat supporting optimal development for toddler's body
Easy to care for and machine washable
WASH AND CARE INSTRUCTIONS
We recommend spot cleaning your carrier as needed with a soft cloth, soap and warm water.  Machine wash when necessary in cold water, on delicate cycle, with mild detergent.  Air dry.
*Infants weighing 7 - 15 pounds must use the Tula Infant Insert (sold separately). Infants more than 15 pounds (7 kg) must continue using the Tula Infant Insert with the Tula Baby Carrier until the baby can hold head up consistently for an extended period of time, and is tall enough to be placed in a fully seated position with knees dangling freely at a right angle.  
We do not recommend back carrying your child until 12 months, or until baby has strong and consistent head, neck, and torso control, and can push him or herself independently into, and remain in, a seated position on a consistent basis.
An award-winning industry leader, Tula is proud to offer beautiful, easy-to use, versatile, and long-lasting carriers which provide a comfortable, ergonomic method of supporting the bond between caregiver and child from birth through 4 years old and beyond.  Tula Baby Carriers are available in a variety of prints, making them both useful and stylish! Tula is proud to meet and exceed safety standards and norms, and is a business member of the Baby Carrier Industry Alliance (BCIA).  
TULA TODDLER CARRIER - COAST JAGGER
This is my first time to use a carrier and Tula is highly suggested by other mommies so I decided to search it and glad to see that CEO Emporium is offering a rental carrier. My kid and I had an easier life whenever we go outside because he prefers to be carried and by the ways it looks, he really likes it when we are using this Tula.
---
We Also Recommend